I just read, at
beliefnet.com, Sam Harris' newest response
to Andrew Sullivan and it is surprisingly gentle. Considering Andrew viciously attacked a straw man and then instead of telling Sam why he believes Jesus was the son of God, born of a virgin, risen to heaven as declared in what Andrew acknowledges is an error filled book, and as is his responsibility in such a debate, he asked Sam why so many others have believed for so long. We don't know, Andrew, that's why we don't believe it, you have to tell us. Is that all you've got, "ah, Mom, everybody else is doing it." Andrew's response was pathetic.
I've argued with fundies that could describe their born again experiences in emotional detail, I've heard C.S. Lewis' arguments about universal morality and I have heard the argument from Biblical prophesy. I have never seen a Christian come back to the debate with their hands as empty as Andrew's. And I think Sam is starting to feel sorry for him. Sam doesn't throw any real bombs which would have been easy to do. Remember the old Sam of the earlier debate who could come up with lines like:
"You simply wrote to inform me that you have never doubted God's existence, cannot account for how you came to believe in Him, and are well aware that these facts will not (and should not) persuade me of the legitimacy of your religious beliefs. I now feel like a tennis player, in mid-serve, who notices that his opponent is no longer holding a racket."
Such lines got quoted and cheered
here: on richarddawkins.net
Maybe they're digging them out now and I missed it? In basic substance, however, Sam's answers were not all that different than mine,
(which is here)
.
Sam used different examples and different phrasing but covered some of the same points, and answered the same questions
as I did
. He had a couple better examples, I confess. The South Indian guru Sathya Sai Baba is one example. Sathya Sai Baba claims to have been born of a virgin, walked on water, raised the dead, flew without the aid of technology, materialized objects, read minds and foretold the future.
"He has literally millions of followers, many of them educated westerners. You can watch some of his "miracles" on YouTube, performed before credulous throngs of spiritually hungry souls. Prepare to be underwhelmed. And yet, you are suggesting that tales of similar events emerging from the pre-scientific religious milieu of the 1st century Roman Empire (decades after their supposed occurrence) are especially credible."
So, how can I critique Sam if he's done that better? It's the things he's not doing that bother me. For example, Sam doesn't use the word "dogma" as I did. Instead Sam is still using the overly broad and off the mark word, "contingency." Sam uses other euphemisms for religious dogma, like "cultural prejudice" when he says:
"I merely asked you to imagine what it would be like if our discourse about ethics and spirituality were as uncontaminated by cultural prejudice as the discourse of science already is."
That doesn't work because I have lots of cultural prejudice to bring to bear on talk of ethics. As an American male who has grown up with scantily dressed women in advertising, at the beach, in my entertainment, and having "no means no" drummed into my psyche I am just way to use to my culture. I can only barely imagine what it would be like to grow up among those black, amorphous blobs of cloth where you only see their eyes and knowing them as women. Similarly, I would feel vaguely uncomfortable in a nudist colony – at least for awhile. So much of our morality is really just ingrained habits our culture makes us get use to.
The phrase "cultural prejudice" just misses the mark because dogma like "the bible says homosexuality is an abomination" is not just "cultural prejudice," it's something more. It claims not to be a cultural prejudice, it claims to be God's law.
This is dogma:
1 Corinthians 6:9-10 (NIV):
"Do you not know that the wicked will not inherit the kingdom of God? Do not be deceived: Neither the sexually immoral nor idolaters, nor adulterers nor male prostitutes nor homosexual offenders nor thieves nor the greedy nor drunkards nor slanderers nor swindlers will inherit the kingdom of God."
Actually, the whole buy-bull is dog-ma.
Maybe dogma is a word that would require definition for Andrew, and perhaps Sam too. Here you go guys:
Dogma: a religious doctrine that is proclaimed as true without proof.
Dogma: a doctrine or code of beliefs accepted as authoritative; "he believed all the Marxist dogma."
Dogma: (the plural is either dogmata or dogmas) is belief or doctrine held by a religion or any kind of organization to be authoritative. Evidence, analysis, or established fact may or may not be adduced, depending upon usage.
Dogma: a religious truth established by Divine Revelation and defined by the church.
Dogma: a blind belief in things often without a material base.
"Dogma" gets closer to the heart of the matter than "cultural prejudice" or "contingency." Those two phrases are vague and fluffy pillows, but the word "dogma" cuts to the bone. And some of Sam's claims aren't entirely on the mark, for example:
"...the discourse of science already exists, and it already functions by norms that are quite alien to religion. If applied in religion, these norms would leave very few traditional doctrines still standing. But contrary to your fears on the matter, this would not make religious music, art, or architecture any less beautiful."
If beauty is the enjoyed emotional reaction to a work of art then I indeed do feel an emotional change in my reactions to art after dropping my religious beliefs. I don't think an atheist and a Christian are going to have the same emotional reaction to a film like Mel Gibson's "The Passion of the Christ" or "2001." Atheism drags all possibilities down to a human level with only human possibility and with science fiction being the closest thing to transcendent hope. It would be dishonest to say one's response to art, beauty and religious metaphor remains the same. Contemplating God or heaven isn't done with some warm, vague and fuzzy expectations of eternity. Eternity becomes a colder, more distant and indifferent idea. But the human side of art takes on a new depth and clarity, but the clarity isn't always pretty. Music and architecture are pretty much the same I guess, they're abstract - but not literature, movies, painting and sculpture.
Maybe this will give you a little taste of the human side: What do you see when you look at Michelangelo's David? Do you think about the fact that he's not circumcised as the real David probably would have been if he really existed and that he has a rather modern haircut for a biblical figure? And why is he nude -- did biblical figures walk around without clothes? Do you ever think maybe the old Greek and Roman scupltures were better? What was that statue to Michelangelo? A biblical figure or a pretty boy? A pretty boy that Michelangelo spent a lot of time on lovingly smoothing out those muscles? What makes that statue religious besides the name and the fact it was commissioned in 1501 by the Cathedral Works Committee?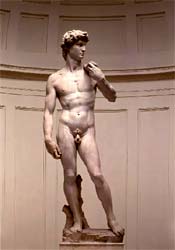 When I was religious I might have accepted the idea that Michelangelo was trying to depict a biblical figure, but he couldn't have really tried hard to do that. Now I see something else.
And to make Sam's point perhaps, the picture below is an ancient classic marble sculpture, the Trojan priest Laocoon is attacked by a sea serpent sent by the goddess Athena. It's not Christian, does that make it any less marvelous than Michelangelo's work? Michelangelo would have grown up around such ancient imagery and so his influences were pagan, in part. If you can respond to the art of a religion not your own, then why would atheists like your art less than you like ancient Greek art?
Wait a minute... "why would atheists like your art less than you like ancient Greek art?" What am I thinking?! Not all Christian art is classic sculpture and classical music. Have you heard Christian rock? Have you seen those sappy pictures of clouds and sunsets that Andrew Sullivan heads his religion posts with? I hope people's tastes change.
And, I'm not sure, but I suspect Sam may have stumbled into his own straw man with this comment: "Your [Andrew's] comments seem to invoke a stark opposition between reason and emotion that I do not believe exists (and which now seems quite implausible at the level of the brain)." Well, if I read Andrew right, he doesn't think so either. Maybe I missed something.
A bit of what Sam wrote is baffling. For example, Sam says: "I did hear some bomb-blasts in the distance. They were magnificent." Huh? What exactly are "bomb-blasts in the distance"? Could he mean things like my previous blog entry? I don't even know if either of them know I exist.