Then why did Nazi soldiers ware belt buckles inscribed with "Gott mit uns," which translates to "God is with us."
I caught the tail end of Bill O'Reilly's interview of Richard Dawkins. Billo's arguments were remarkably stupid and clueless, like, "I'm a Catholic and that's truth to me." He also made the tired old claim about Stalin and Hitler being atheists and thus tried to stereotype atheists as immoral.
What makes the "Hitler was an atheist" claim so clueless is the fact that there is such overwhelming evidence against it. Just type the words
"Hitler, atheist" into goggle
and you get 928,000 sites listed and at least most of the first ones provide evidence that Hitler called himself a Christian. It takes an incredibly clueless sucker to believe Hitler was an atheist today when the facts can be easily checked.
And it's not just Bill O'Reilly, on an edition of
Meet the Press some time ago, Tim Russert talked to Rick Warren
, the author of The Purpose Driven Life, and this is one of the things Rick Warren said:
Sam [Harris] is overlooking the 20th century. Because the truth of the 20th century is more people were killed in the 20th century by atheist governments than all Christian ideas throughout history combined. When you look at the godless communism, and Nazism, which in itself we're the ruler—tens and tens of millions, maybe a hundred million people were killed in the 20th century by atheists, not by believers. So yes, you can go back to the Crusades, and they were wrong. They were flat out wrong. But let's take the most recent history. Atheists were what caused the most people—Stalin was an atheist, Mao was an atheist,

Hitler was an atheist

. He was an occultist, actually. And, and so let's just make sure that history is told.
Here are some Hitler quotes, mostly from:
http://www.nobeliefs.com/Hitler1.htm
"My feelings

as a Christian

points me to my Lord and Savior as a fighter. It points me to the man who once in loneliness, surrounded only by a few followers, recognized these Jews for what they were and summoned men to fight against them and who, God's truth! was greatest not as a sufferer but as a fighter.

In boundless love as a Christian

and as a man I read through the passage which tells us how the Lord at last rose in His might and seized the scourge to drive out of the Temple the brood of vipers and adders. How terrific was His fight for the world against the Jewish poison. To-day, after two thousand years, with deepest emotion I recognize more profoundly than ever before in the fact that it was for this that He had to shed His blood upon the Cross.

As a Christian

I have no duty to allow myself to be cheated, but I have the duty to be a fighter for truth and justice.... And if there is anything which could demonstrate that we are acting rightly it is the distress that daily grows.

For as a Christian

I have also a duty to my own people.... When I go out in the morning and see these men standing in their queues and look into their pinched faces, then I believe

I would be no Christian, but a very devil if I felt no pity for them

, if I did not, as did our Lord two thousand years ago, turn against those by whom to-day this poor people is plundered and exploited."
-

Adolf Hitler, in his speech in Munich on 12 April 1922
German Christian Movement Badge. Hitler backed The German Christians movement (DC) with the party's organizational support.
"We are a people of different faiths, but we are one. Which faith conquers the other is not the question; rather, the question is whether Christianity stands or falls....

We tolerate no one in our ranks who attacks the ideas of Christianity

... in fact

our movement is Christian

. We are filled with a desire for Catholics and Protestants to discover one another in the deep distress of our own people."
-

Adolf Hitler, in a speech in Passau, 27 October 1928, Bundesarchiv Berlin-Zehlendorf
Note the "Cross of Christ" standing atop the Swastika, indicating its higher supremacy.
"We were convinced that the people needs and requires this faith.

We have therefore undertaken the fight against the atheistic movement

, and that not merely with a few theoretical declarations:

we have stamped it out.

"
-

Adolf Hitler, in a speech in Berlin on 24 Oct. 1933
Hitler Youth Day Badge 1933
"National Socialism neither opposes the Church nor is it anti-religious, but on the contrary it stands on the ground of

a real Christianity

.... For their interests cannot fail to coincide with ours alike in

our fight against the symptoms of degeneracy in the world of to-day

, in our fight against a Bolshevist culture,

against atheistic movement

, against criminality, and in our struggle for a consciousness of a community in our national life... These are not anti-Christian,

these are Christian principles!

And I believe that if we should fail to follow these principles then we should to be able to point to our successes, for the result of our political battle is surely not unblest by God."
-

Adolf Hitler, in his speech at Koblenz, to the Germans of the Saar, 26 Aug. 1934
Nazi Army (Heer) chaplain's hat with silver Christian cross.
"

God the Almighty has made our nation

. By defending its existence we are defending His work...."
-

Adolf Hitler, in a radio address, 30 Jan. 1945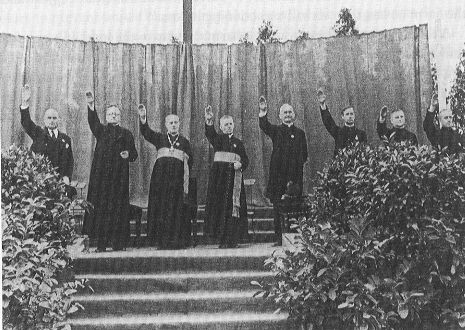 Priests giving the Nazi salute.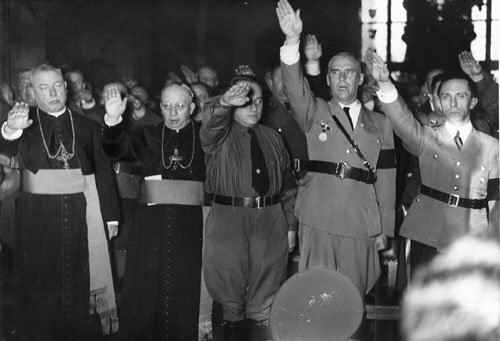 Atheists have been the targets of a vicious smear campaign for years that uses big lies, illogical arguments and Orwellian manipulations. It has been highly effective and according to
a University of Minnesota study
, atheists are
America's most distrusted minority
. Atheists rank even lower on the charts than Muslims, immigrants, homosexuals, and every other minority group. Atheists are also the minority group most Americans are least willing to allow their children to marry. Bill O'Reilly, Rick Warren,
Ann Coulter
and many of the media's Christian spokespersons claim to believe Adolf Hitler was an atheist. Do they know something we don't?
Hitler's claim to be a Christian
might have been a lie, in which case the Christian followers of Hitler were clueless suckers. And we can't say for sure that Bill O'Reilly, Rick Warren and
Ann Coulter
believe the things they say
about Hitler's atheism
. So, they are either idiots or liars, or perhaps both.
However, we have more clues than what Hitler told people about his beliefs.
We know what was in Hitler's library
:
"Another indication of Hitler's beliefs about religion comes from his private library of numerous books. Although most of Hitler's books came as gifts from writers and publishers, those where he penciled and underlined sections reveal, not only the books that he read, but also those that he commented on and had an interest in. Timothy W. Ryback, who examined Hitler's books, found more than 130 books devoted to spirituality and religion including the teachings of Jesus Christ. Some of the titles included, Sunday Meditations; On Prayer; A Primer for Religious Questions, Large and Small; Large Truths About Mankind, the World and God; a German translation of E. Stanley Jones's 1931 best seller, The Christ of the Mount; and a 500-page work on the life and teachings of Jesus, published in 1935 under the title The Son: The Evangelical Sources and Pronouncements of Jesus of Nazareth in Their Original Form and With the Jewish Influences. Ryback also found a leather-bound tome -- with WORTE CHRISTI, or "Words of Christ," embossed in gold on the cover -- According to Ryback, it "was well worn, the silky, supple leather peeling upward in gentle curls along the edges. Human hands had obviously spent a lot of time with this book.... I scanned the book for marginalia that might suggest a close study of the text. A white-silk bookmark, preserved in its original perfection between pages 22 and 23 (only the portion exposed to the air had deteriorated), lay across a description of the Last Supper as related by Saint John. A series of pages that followed contained only a single aphorism each: 'Believe in God' (page 31), 'Have no fear, just believe' (page 52), 'If you believe, anything is possible' (page 53), and so on, all the way to page 95, which offers the solemn wisdom 'Many are called but few are chosen.'"
We know what books were in Hitler's library, and it contained plenty of Christian theology and those books had notes in the margins, in Hitler's hand, indicating he'd read them and thought about them a lot. The evidence is there and if you can look at all that evidence, the words Hitler wrote and said, the Christian symbolism of the Nazis, etc. and still say Hitler was an atheist, then you are willfully ignorant and simply prefer your delusions to reality.